Well, Man's Camp this year started out pretty dicey. Jeremiah and I headed up earlier while others planned on driving up after work and later in the day.We wanted to try to get above the water line so we'd have snow, and stay away from the rain. Things were looking pretty good until Jeremiah's rig veered into a ditch heading into Devil's Half Acre. These silly new cars don't put proper tow hooks on anymore, so it took a while to shovel and dig to find some place to put the winch on. We eventually made it just outside of the the turn off to Devil's Half Acre, which seemed to provide us with ample space for the carports and cars.
Then, the rains came. It started getting dark a little after Jeremiah and I pulled into the camp site and started setting up the carport. Unfortunately no one else had shown up yet. Rain was pouring down our arms as we struggled to get the huge carport up. We eventually had done all that we could without more help, so sat on a wet picnic table until Shawn and the boys pulled in. We made quick work of the carport after that. Here you can see Isaac an Cole warming up next to the heaters.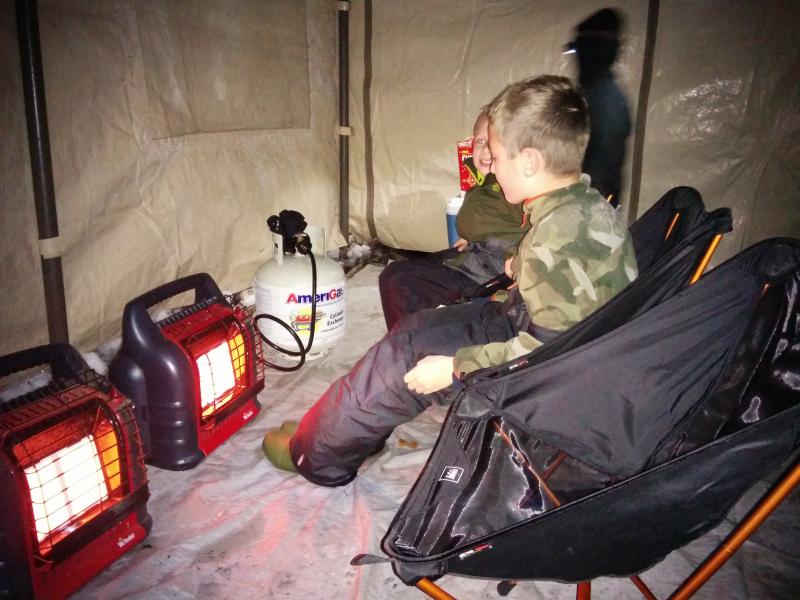 That night was pretty brutal. Getting the huge carport setup in the rain with barely any help, in the dark. By the time everyone had shown up to camp, nothing had really been setup, so everyone was getting soaked. There was chatter about calling it quits for the weekend. Until the next morning.
Next day actually turned out pretty nice. We were able to make some killer breakfast sandwiches and get the rest of camp setup. Things were looking up. We even had a new comer to the group, and old friend of the family, Sam. Shown here with Don and Nate around the fire.
Later Saturday night, we had a little bit of snow come in. I took Taylor for a drive out in it. I can already see the 4 wheeler in his eyes.
The rest of the weekend went pretty smooth. Nice sunny Sunday morning to pack up and say our good byes. Another one for the record books!