This years Man's Camp was nestled in the hills just north of Detroit Lake. The campground, Elk Lake Campground, sits at roughly 3800ft elevation. Normally when we go camping this time of year, we hit severe weather. Either rain, or snow and sometimes both. This year was quite a change. Initially arriving Friday morning, the campground was fairly wet. It took a couple beers for the arriving party, Don, Matt and I to decide on where to pitch our tent. But finally settled on a campground right off the lake.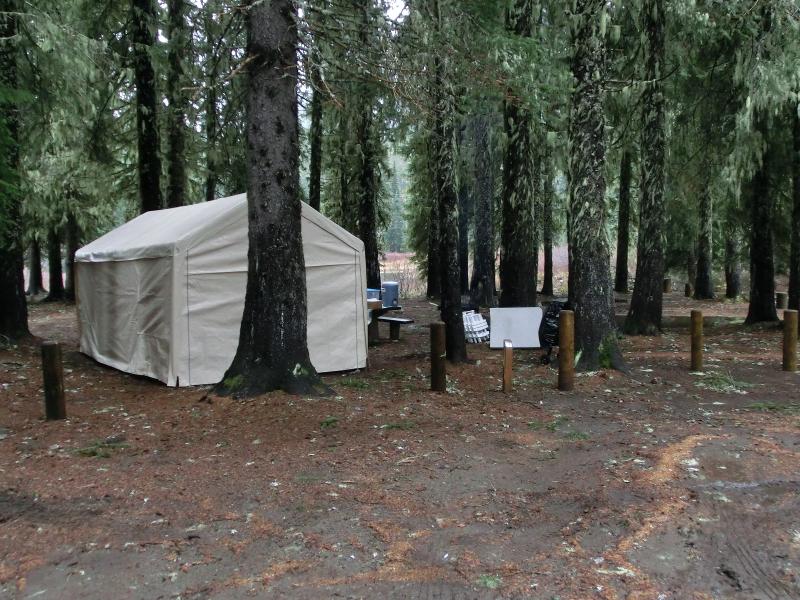 Once camp was setup, we worked on getting a fire going and shortly after Nate and Taylor showed up. The first nights food was great. Rib-eye steaks and baked potatoes with sour cream, butter and shredded cheese.
The lake was beautiful all weekend long. In fact, we didn't have any wind the whole weekend. The lake was like a mirror until we left Sunday.
Here's a picture of Matt and Don sitting by the fire while they finish their cups of coffee. Shortly after, Shawn, Cole, Jeremiah and Isaac arrived at camp.
Our snack and dinner for Saturday night was great. Bacon wrapped onion rings followed by BBQ corn chowder. Here's the group together putting the onion rings together.
Isaac and Jeremiah, Shawn and Cole, Nate and Taylor all warming up by the fire waiting for the the onion rings.
The onion rings and chowder looking tasty!
Sunday for dinner we had ribs that Jeremiah and I brought. I forgot to snap some pictures of those guys, but they were tasty too. We also did some target practicing with various weaponry that was brought with us. Check out this little video of Isaac shooting his dads 9mm pistol.
Matt, Nate, Taylor, Shawn and Cole ended up leaving Sunday night to head back home, but Don, Jeremiah, Issac and I stayed until Monday morning to finish off the 4 day weekend. All in all, we had spectacular weather, a great fire, good beers, good food and great company this year. Hope to see every next year!