BACKSTORY:
I had been brewing for a couple years when the wife and I started to remodel our home back in 2013. I remember brewing for all 3 of my corny kegs in January of '13 and promply running out of homebrew in March of '13 shortly after the remodel started. Oh well. During the remodel, lots of furniture was replaced and the garage space quickly filled up. Aka, my brew area.
During the last 2.5 years, I had a couple things in mind for my beer brewing. First, I was tired of my picnic taps dangling in the garage fridge sometimes leaking, so I built a keezer to house all my beer. With 2 corny kegs and a sanke, having 25 gallons of beer on tap is awesome. During my brewing hiatus it had been filled with local microbrews. Second, I was tired of my brew days lasting 4-6 hours for a 5 gallon corny that would sometimes last about 2 weeks. So I upgraded my pot to 25 gallons, bought a custom bag from http://biabbags.webs.com/, purchased a chugger pump and plate chiller model b3-23a(https://www.dudadiesel.com/search.php?query=b3-23a). Things are looking up.
PRESET DAY:
So now that I had some time to give brewing a try with the new equipment, I got all the gear setup and the ingredients prepped. I was going to brew a 5 gallon batch of my English Cream Ale/ESB style. One of my favorites I've brewed many times before so I would be able to gauge the new gear pretty well.
Recipe -
7lb 10oz marris otter(crisp)
12oz cara-pils/dextrine
6oz crystal 60L
1oz chocolate malt
60 min, 1oz northern brewer hops
15min, 1oz east kent goldings hops
white labs wlp002
THE PROCESS:
Starting out, I had another trick up my sleeve. Instead of putting cold water into the pot for mashing, I used one of my cleanout valves from my tankless water heater. I like to mash at 152F for about 45 minutes and then slowly raise to 168F the last 15 mintues of the hour. So I set my tankless to 158F and started filling up the pot. Awesome, probably 20-30 minutes of cold tap water heating time saved here.
Once the pot was full, I threw on the bag and dumped the malt in. The temps dove about 10F degrees, so I had to turn on the burners for a couple minutes. No big deal. So far I'm saving lots of time on the new setup.
After the boil was done, I hoisted up the bag. Letting the bag drain without me holding it was great too. I was immediately able to start the heating process to boil the wort.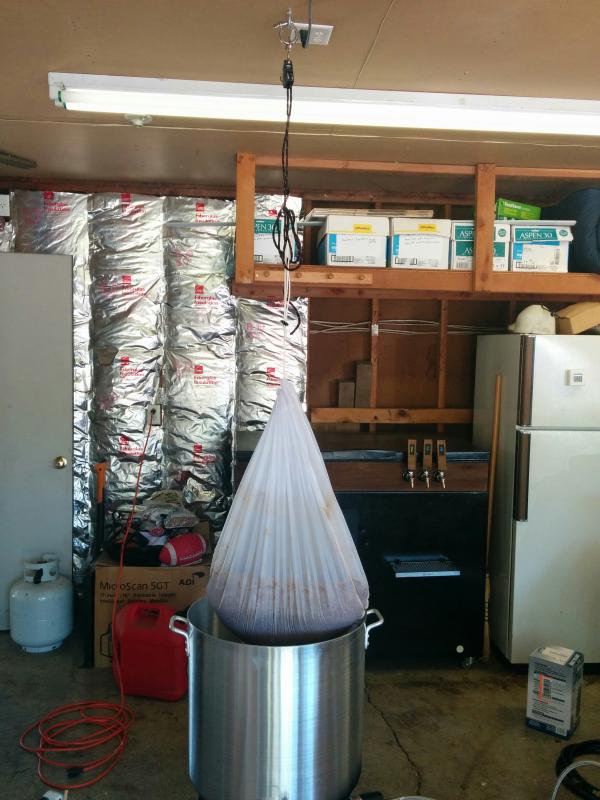 Unfortunately I kind of forgot to get pictures of the rest of the process, but the plate chiller and pump worked awesome. Right after the boil, I connected the pump and chiller hoses and started pumping the wort into the fermenter. It was going in at 75F exactly. Took about 2 minutes total. That was huge. The water temps here during the summer months are 66F and with my old immersion chiller sometimes took me upwards of 45-60 minutes to get the wort down to 90F. No more waiting.
I was able to cap the fermenter after pitching the yeast. Cleaning up was another 15 minutes or so as I pumped sanitizer through the chiller, scrubbed the pot clean and hosed off the bags. Looking at the time I couldn't believe it. It was 3 hours after starting. Can't wait to try my first 15 gallon batch.
NOTES:
Generally speaking, during the hop additions and boil process you'll lose about 1 to 1.25 gallons of water in the process. After calculating water loss with my new pot, I had around 2 gallons per hour that boiled off. I think it's because there is a much larger surface area of water as opposed to my previous pots. If I remember right, the pot I have is about 20 inches across. Also, since I hadn't brewed in so long, I forgot to take a gravity reading. Ha! Oh well. Usually when I've brewed this recipe, I hit right at 5.0-5.2% abv. Since I only got about 4.5 gallons total, I think it might be around 5.6-6%.
Bonus pic of my helper.